Japan is a fascinating country with a rich culture and heritage waiting to be discovered. It also has an advanced tech industry, providing plenty of job opportunities for both locals and foreigners.
If you're considering moving to this country, you'd know that Tokyo isn't necessarily a cheap place to live. As you plan your move, knowing the cheapest places to live in Japan is essential. Let's learn more about these places, and what the living conditions and costs look like.
| | | | |
| --- | --- | --- | --- |
| PLACE | AVERAGE MONTHLY COST OF LIVING FOR ONE PERSON (IN USD) | AVERAGE MONTHLY RENT FOR ONE PERSON (IN USD) | COST OF ONE MEAL (IN USD) |
| Osaka | 1,300 | 650 | 10 |
| Kawasaki | 1,300 | 750 | 7 |
| Sapporo | 1,300 | 500 | 9 |
| Tsushima Island | 1,100 | 600 | 6 |
| Naha | 1,200 | 700 | 8 |
| Fukuoka | 1,000 | 500 | 7 |
| Kyoto | 1,400 | 700 | 7 |
| Kamakura | 1,100 | 500 | 7 |
| Yokohama | 1,800 | 800 | 6 |
| Chiba | 1,300 | 600 | 7 |
1. Osaka
Osaka is a diverse metropolis with a lot to offer, like Tokyo. However, living here isn't as expensive as you might think. At the very least, the living costs here aren't as expensive as those in the capital.
Many tech giants, such as Panasonic and Sharp, are based in Osaka. With the development of the Bay Area, the city is undoubtedly an attractive base camp for local and foreign investors. Considering these things, job opportunities are plentiful, especially in the tech industry.
One of the best things about large cities like Osaka is the efficient public transportation system. Getting from one part of the city to another is pretty easy and affordable. Moreover, you can also get to other cities in a breeze. Kyoto, for example, is only 13 minutes away by bullet train.
Rent, groceries, and utilities are relatively cheap in Osaka. A one-bedroom apartment usually costs 500 USD to 800 USD per month. If you eat at an inexpensive restaurant or food chain, a meal would cost you around 10 USD. Your meals could be cheaper if you cook your own food at home.
On average, living in Osaka costs about 1,300 USD per month. It is roughly 15% cheaper than the cost of living in Tokyo.
A downside of living in Osaka is that the nightlife can be pretty wild. It's important to be extremely cautious when hitting bars and nightclubs, especially if you're not used to the scene.
2. Kawasaki
Another city that makes you feel like you're living in Tokyo without the high living costs is Kawasaki. It's also a gateway to the capital because it is only 40 minutes away from Tokyo by train. As part of the greater Tokyo district, it is the halfway point between Tokyo and Yokohama.
Kawasaki's job market thrives because it is home to many large companies. There are plenty of white- and blue-collar jobs, so you won't have difficulties finding employment. Specifically, many opportunities await engineers and manufacturing workers. The city is also an ideal home base for foreigners pursuing higher education.
If you're living alone, a one-bedroom apartment will suffice. Monthly rent ranges from 600 USD to 900 USD. Meanwhile, a cheap but decent restaurant meal costs about 7 USD. Of course, dining at home is a lot cheaper, especially if you know where and when to get your groceries.
With rent, food, and utilities combined, you're looking at spending about 1,300 USD a month to live comfortably in Kawasaki.
Perhaps the main issue about living in Kawasaki is the pollution in the southern area. Nevertheless, it doesn't compare to the pollution in Tokyo. On that note, it's highly recommended to live in northern neighborhoods, such as Shin-Yurigaoka.
3. Sapporo
Sapporo has transformed from a quaint rural village into one of the largest cities in Japan. It serves as Hokkaido's cultural, financial, and political center. Regardless of its development, it offers a relatively slow pace of life. The cost of living is affordable for most people, too.
Sapporo is known for being one of the coldest places countrywide. Winter sees subzero temperatures. For this reason, it's become a famous destination for winter sports. It also hosts the Sapporo Snow Festival, an annual event drawing millions of tourists.
This city appeals to many students because tuition fees here are relatively cheap. However, only a few job opportunities are available. You might have difficulties seeking employment. If your current job requires you to relocate here, there's no problem.
Renting a one-bedroom apartment in Sapporo likely costs 330 USD a month. For something more sophisticated, you're looking at a rent of 700 USD a month. A meal at an affordable restaurant is about 9 USD. These expenses, along with basic utilities, amount to about 1,300 USD monthly.
Living in Sapporo might not be for you if you don't do well in cold weather. The upside is that it doesn't experience as many natural catastrophes as other parts of the country.
Driving around Sapporo might also be an issue if you have a private car. Since it is one of the cities with the most traffic lights, expect longer travel times.
4. Tsushima Island
If you want to lead an island life without letting go of metropolitan conveniences, consider living on Tsushima Island. Nearly 90% of the surrounding landscape comprises lush forests. Despite being surrounded by breathtaking beaches, nature reserves, and mountains, it has some sights and establishments that create an urban vibe.
Life on Tsushima Island is centered around the ocean and agriculture. As such, the job market mostly consists of the fishing and farming industries. Trading is another source of income for locals. If these industries appeal to you, you'll like living here. However, employment opportunities are not plentiful.
What makes living here attractive is the low cost of living. The monthly rent for a one-bedroom apartment ranges from 400 USD to 800 USD. For one meal at a restaurant, you can spend about 6 USD. Considering all basic necessities, you'd survive with even less than 1,100 USD a month.
5. Naha
Naha is part of a tiny tropical island group on the East China Sea coast, so it is known for its pristine beaches and nice tropical weather. It's a historical city with great cultural significance. Amid the modern development, you will find many iconic landmarks, such as the 15th-century Shuri Castle.
This city's a good place to live in because it offers modern-day conveniences while maintaining the glory of its natural landscapes. Housing isn't that cheap, but still far more affordable than that of Tokyo. For at least 700 USD a month, you can live in a nice one-bedroom apartment.
You can have a comfortable lifestyle in Naha at roughly 1,200 USD per month. This budget covers basic living expenses, such as rent, food, transportation, and utilities. If you compare this living cost to that of Tokyo, it's cheaper by roughly 40%. Of course, you might need a little more money to sustain a lavish lifestyle.
Naha doesn't have vibrant city lights and huge shopping centers. It's small and remote, so getting used to its small-town charm will take some time if you're from a highly urbanized city. On a positive note, getting around here is pretty straightforward.
6. Fukuoka
As a massive port city, Fukuoka serves as a gateway to Kyushu. Its well-preserved heritage is evident in the abundance of ancient forts and temples. It also has vibrant nightlife and shopping scenes. If you love nature, you will love the beaches and parks all over the city.
Since the sea and mountains border Fukuoka, it doesn't deal with much pollution. Cherry blossoms are also plentiful, creating a relaxed atmosphere.
The startup scene in the city has seen a significant boom in recent years. Many local and foreign investors are coming in to start a business or invest. As a result, the job market has also become attractive over the years. If you're just starting to build your career, this city might be the best place to explore.
Getting around Fukuoka is easy because of the efficient public transportation system. Living costs are relatively affordable. Specifically, monthly living expenses are roughly 25% cheaper than those in Tokyo. A budget of 1,000 USD is good enough to live decently. If you're a student, expect the costs to be half as much.
Renting a one-bedroom apartment would likely cost you 400 USD to 650 USD a month. If you're dining out for three meals a day, expect to spend around 20 USD daily. You can save up a lot of money if you opt to grab groceries and prepare your own food at home.
What makes living here quite challenging is the fact that most locals don't speak English very well. Learning the Japanese language will give you an advantage.
7. Kyoto
Kyoto is known as Japan's imperial capital. Although Tokyo has already replaced it as the country's capital, it remains a significant cultural and religious center. You will find numerous shrines, temples, and other landmarks on almost every corner, and these places speak of the city's rich history.
This city also boasts incredible natural scenery. Three rivers flow through it, and mountain peaks surround the landscape. Although it has a population of over a million, it's still less packed and less hectic than Tokyo. You can still enjoy a slow-paced life. After all, it's called the Capital of Peace and Tranquility for a reason.
Kyoto is a hub for college and post-graduate students. Scholars and educators laud the university system here.
For one person, living in Kyoto is financially practical. 550 USD to 800 USD a month would suffice for a one-bedroom apartment. Since many housing options are available, finding the right apartment for you won't be difficult. Rent and the cost of basic necessities bring your monthly budget to about 1,400 USD.
Since this city is a major tourist destination, expect heavy crowds during peak season. Most attractions and establishments, including restaurants, are often filled with people at certain times of the year.
8. Kamakura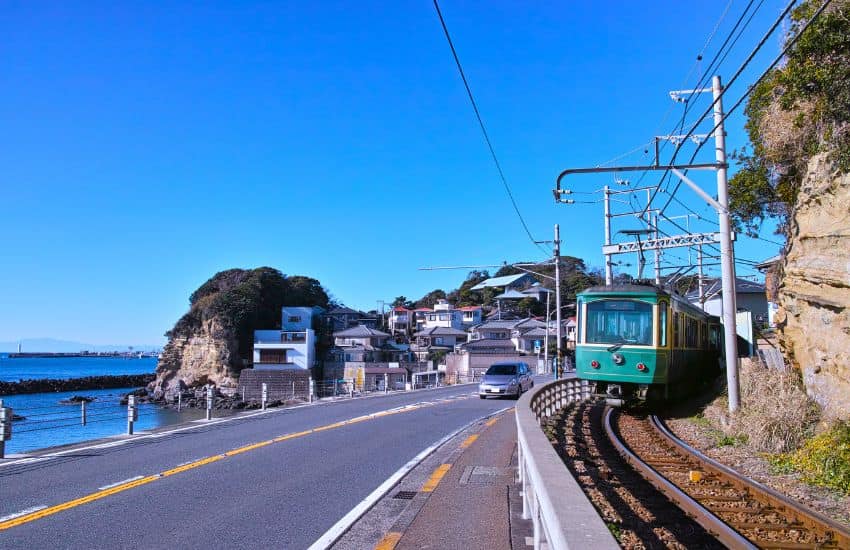 Only 45 minutes from Tokyo, Kamakura is a popular alternative for those working in the capital who don't want to live there.
This city's beaches are famous among surfers. It also offers fascinating views of Mount Fuji. If there's an area to avoid, it's Shonan. It gets seriously congested, especially during rush hours. Also, expect an abundance of tourists because many temples and shrines are present.
Commuting around Kamakura is easy. The public transportation system works fine, so getting from one part of the city to another won't be tricky.
The streets in Kamakura are quite fascinating. They feature both traditional Japanese houses and modern architecture. Wherever you choose to live, one thing's certain: you won't have to break the bank to pay for rent. You can find a decent one-bedroom apartment that only costs about 400 USD to 600 USD per month.
Food, groceries, and utilities are relatively cheap. You can get a good meal at an affordable restaurant for only 7 USD. To cover these basics, including rent, you'd likely only need 1,100 USD a month.
If you choose to live in Kamakura, be prepared to experience year-round rainfall. It rains heavily even during the dry season.
9. Yokohama
Yokohama is one of the country's biggest port cities. It offers high-quality living at affordable costs, attracting many locals and foreigners in the past few years. With the rise of the tech industry and the growing number of retail stores, local job opportunities have also become abundant lately. Many tech giants, such as JVC and Nissan, are based here.
Living in Yokohama gives you access to dependable government services, especially in childcare and education. If you want to start a family and raise kids in a family-friendly society, it's the right place for you. One of the best neighborhoods here is Minato Mirai 21 because of its thriving real estate market.
Getting from Yokohama to Tokyo only takes 30 minutes, about the same amount of time traveling from a Tokyo suburb to the city center.
The cost of living in Yokohama is higher than in other cities, but still cheaper than that of Tokyo. For one month, you'd need about 1,800 USD to cover basic living expenses. This budget includes rent for a one-bedroom apartment ranging from 650 USD to 1,000 USD.
Accordingly, Yokohama isn't the friendliest city for members of the LGBTQ+ community. That's one potential downside of living here.
10. Chiba
The gateway to Japan, Chiba is home to Narita International Airport. It may be surrounded by beaches and rivers on all sides, but it has a metropolitan atmosphere that appeals to many young adults and professionals.
Chiba is a renowned commuter town because of its sophisticated public transportation system. High-speed trains can bring you to other cities in a blink. After all, it's home to a major Japanese airport.
Living in a one-bedroom apartment in Chiba costs about 500 USD to 700 USD each month. A meal at an inexpensive dining outlet would cost you roughly 7 USD. If you're on a tight budget, you can get groceries and prepare home-cooked meals daily. These basic needs, along with utilities and transportation, would require an average monthly budget of 1,300 USD.
Some neighborhoods, especially those with active nightlife, can get pretty turbulent at night. Once you get settled in Chiba, it's best to figure out these neighborhoods so that you can easily avoid them.
You can live in Matsudo if you want to avoid large crowds. If you want to be within reach of different establishments, Kashiwa is the neighborhood for you.
---
You'll Also Like
Do you need a Passport for Tijuana?
Places to See in Barcelona in 2 days
Things to do at Niagara falls NY for Couples
---
Best & Cheapest Places to Live for Expats in Japan
1. Osaka
Osaka is one of Japan's friendliest cities, especially for tourists and ex-pats. Most locals are outgoing and welcoming to foreigners. Generally, the population is young, so people are open to many things. If you're moving here from a different country, you can easily feel at home in a few weeks or months.
2. Sapporo
Foreigners, especially students, are attracted to Sapporo because of its relatively affordable school system. The higher education here is suitable for international students.
If you, as an ex-pat, want to move to a city with uncompromising natural beauty, Sapporo is the place to be. Specifically, you'd like to live in Fushimi or Maruyama.
3. Naha
Naha has a diverse culture, so it is a no-brainer choice for foreigners who want to live in Japan for good. Many Americans live in and near military bases, so you won't have difficulties adjusting here. Undoubtedly, locals are used to seeing ex-pats around.
More importantly, many houses are Western in style. It'd appeal to you if you don't want to reside in a traditional Japanese home.
4. Fukuoka
As a port city, Fukuoka unsurprisingly draws many foreigners. At the rate urban development is going, it's become a viable option for permanent relocation to Kyushu. The startup scene is particularly attractive for ex-pats who want to invest in Japan.
5. Kyoto
Kyoto has one of the best ex-pats communities countrywide. For tourists who fall in love with its beauty, moving here for good makes a lot of sense.
The city's vibrant culture and well-preserved heritage allow foreigners to embrace and learn more about Japan. By living here, you can experience many of the best things the country offers, including Shinto shrines and lovely cherry blossoms.
---
You'll Also Like
Things to do in Nashville for Couples
Best Weather in Europe in November and December
Is Baja in the US or Mexico?
---
Cheapest Places to Live close to Tokyo
1. Kawasaki
Kawasaki is only a 40-minute train ride from Tokyo. Even though it is part of the greater Tokyo metropolitan area, living here isn't as expensive as living in the capital.
Rent in Kawasaki is roughly 50% cheaper than that in Tokyo. At a glance, it may seem heavily industrial, but it packs a punch. The canals, museums, and shrines await tourists and foreigners who want to settle here for good.
2. Kamakura
If you want to live near Tokyo and maintain a relatively low cost of living at the same time, Kamakura is an excellent option. It is only about a 45-minute drive from the capital.
This city may seem like a small seaside town, but it's actually more developed than you think. It's different from Tokyo because it's less crowded and allows you to enjoy life at a relaxed pace.
3. Yokohama
Yokohama is one of the most affordable cities to live near Tokyo. In fact, it is only half an hour away from the capital. As such, you won't have a hard time working in Tokyo even if you live here.
---
You'll Also Like
Most Romantic Places in French Riviera
How Do You Get to North Captiva Island Florida?
Can You Drink or Smoke on The Beach in Hawaii?
Differences between Niagara Falls and Horseshoe Falls
---
Is Japan expensive?
Yes, living in Japan is relatively expensive. It is known for its relatively high living costs, particularly in the capital. In fact, Tokyo is one of the most expensive cities to live in worldwide.
Cost of living in Japan
Excluding rent, an individual's cost of living per month is around 900 USD. This amount of money covers basic necessities, such as utilities, transportation, food, and communication. This average can be significantly lower or higher, depending on how you manage your expenses.
Utility Expenses
An individual's average utility expenses total about 75 USD monthly. These expenses include electricity, running water, and gas. If you have a postpaid mobile plan and broadband or fiber optic subscription at home, be prepared to spend between 30 USD to 75 USD per month.
Food
You could save money if you cook your own food instead of dining or ordering restaurant takeouts. Japanese food, soybean products, and local produce are cheap at local supermarkets.
At inexpensive dining outlets, you can get a full meal for as low as 4 USD. They're usually located inside train stations and business districts because these areas have large foot traffic.
Transportation
Transportation is another large chunk of your monthly budget, whether commuting or maintaining your own car. Of course, the former is cheaper than the latter.
Most cities have efficient railway and subway systems. You can buy a monthly train commuter pass with unlimited rides between the nearest station to your home and your office or school. If your company provides good benefits, it may shoulder some or all of your commuting costs.
Highly urbanized cities, such as Osaka and Tokyo, also have public buses running different routes to complement the train networks. In some suburbs, buses are the primary means of public transportation.
Owning a Car
While cars are relatively affordable in Japan, it's what happens after the purchase that's quite pricey. Aside from paying for gas, you also need to comply with mandatory requirements, which cost money. These requirements include insurance, periodic inspections, and tax dues. If you live in a big city, you also need to pay for parking.
Salary in Japan
2021 Doda data show that the average annual income in Japan is 34,000 USD. Some industries with high-paying jobs include the IT/Communication, Manufacturing, and Banking/Finance industries. On average, a career in these industries pays 33,500 USD a year.
Of course, many factors are at play when it comes to an individual's salary. It depends on the industry you work in, the experience you have, and even your location. Unfortunately, gender also plays a role.
Some industries pay significantly more than others. The more experience you have, the more well-positioned you are to get a big paycheck and a raise. In the cities, salaries are usually bigger than those in the countryside.
Gender Pay Gap
While female and male employees usually earn the same, it's much harder for females to get leadership positions than males. This reality results in the wage difference between females and males working in Japan.
Foreigner's Salary
A foreigner's average annual income in Japan is significantly lower than a citizen's. It's only about 18,800 USD. However, a considerable factor affecting this average figure is the fact that many international students work part-time jobs or as interns with low salaries. Many foreigners also work in low-paying industries, such as the education and service industries. Translators, for example, don't make as much money as high-level executives at a tech company.
These average salaries are quite enough to live comfortably in Japan. You could cover basic living expenses and set aside some for emergencies and savings. Of course, it all depends on how well you manage your money. As any wise adult would advise, the most important thing to do is always live within your means.
Rent in Japan
Rent in Japan isn't necessarily cheap, and the rates vary. Nevertheless, it's still a lot lower than rent in the US.
Of course, rent is significantly higher in huge metropolitan areas, such as Tokyo. It also depends on the kind of apartment you're getting. If you're living alone and working with a limited budget, a decent 10 sqm unit might be good enough for you. If you have more than enough money for housing, you might as well go for a luxury apartment to live more comfortably.
---
You'll Also Like
Differences between Niagara Falls and Horseshoe Falls
Best Nightlife in Europe in December
Most Kid-Friendly Countries to Visit
Best European Cities to Visit in December
---
Buying Property in Japan
If you've made up your mind to live in Japan for good, buying property might be the best idea for the long term. It's not as complicated as it might seem for foreigners as long as you familiarize yourself with the local real estate market and buy-and-sell process.
The good thing about the real estate market in Japan is that it's very open to foreigners. Even if you don't have a residence visa, you can buy land and properties. More importantly, the same legalities that apply to Japanese citizens apply to foreigners.
However, in most cases, all paperwork will be in Japanese. Your broker's agency might provide translated materials to help you understand the documents you're signing. Nevertheless, only those written in Japanese will be binding and legal.
The documentary requirement for foreigners is an Affidavit. For citizens and residents, requirements include an Inkan, passport, and residence card. An Inkan is a traditional Japanese seal used for signing legal documents.
You need to work with a team of professionals to complete a sale seamlessly and without any trouble. At the very least, this team should comprise a judicial scrivener, licensed broker, loan officer, and tax consultant. The following is a handy guide for real estate acquisition in Japan:
1. Consult a real estate broker
A licensed real estate broker is knowledgeable enough to help you identify the best property based on your preferred location, budget, and required features. More importantly, they can help you sort out all legal requirements quickly and professionally. Usually, no lawyers are involved in closing deals because Japanese realtors are well-equipped to handle the legalities.
Once you find an agency, you will sign a broker agreement indicating the brokerage commission. The standard commission rate in Japan is 3%.
2. Reach out to a bank or loan provider
Don't make the mistake of viewing properties before securing financing or, at least, talking to a bank. That is if you plan to get a loan. If you plan to pay for the whole thing using your savings or cold cash, you can skip this step.
Even a verbal pre-approval for a loan increases your bargaining power when talking to sellers. It gives them confidence that you'd be able to pay for the property and close the deal in no time.
3. Conduct site visits
Once you've secured financing, you can start exploring and comparing properties without worry. Ensure to have your realtor with you throughout this process because they'll help you set and manage realistic expectations. They'll also work with you to help you make sound decisions depending on the current market trends, and the things you like and dislike about the properties you see. Of course, proper due diligence is also part of it.
4. Express your intent
Once you've decided on a property, you can finally express your intent to purchase it. If it's a pre-owned property, you need to submit a Letter of Intent. An application to purchase is required for new properties. Usually, these things are taken on a first-come, first-served basis.
5. Negotiate and finalize the paperwork
Once your intention to purchase has been acknowledged, your real estate agent can start negotiating with the seller and ironing out the details of your deal. Items on the checklist include the final purchase price, payment methods, among others. If you're securing a loan, this is the time to finalize the loan agreement with the concerned financial institution. Contract drafting and preparing other legal documents also occur during this stage.
6. Execute the contract
At this point, the broker should provide you with a set of documents. These documents include the owner title registration, legal description of the property, and even provisions on contract cancellation.
To execute the contract, you need to settle an initial cash deposit. It's usually 10% of the total amount, but it could be lower depending on your talks with the seller. This initial payment is transferred directly to the seller instead of a third-party entity, such as an escrow.
7. Finalize all dues
When settling all dues, a judicial scrivener should be present. This part of the process involves you transferring the remaining balance to the seller's bank account and the seller transferring the property title to you.
---
You'll Also Like
Best Christmas Beach Vacations for Families and Couples
Best Domestic and International Spring Break Destinations for Families
Best Cheap Vacations for College Students in the USA
Best Cheap Summer Road Trips for College Students
---
Final Words
Based on American standards, living in Japan isn't that costly. However, if you compare it to neighboring Asian countries, the cost of living in Japan is relatively high.
Tokyo is one of the most expensive cities to live in worldwide. Nevertheless, the country has many great cities that offer affordable living costs, including housing.
For ex-pats, Osaka, Sapporo, Naha, Fukuoka, and Kyoto are the friendliest and cheapest places to live in Japan. It'd only take about 1,200 USD a month to live comfortably in these places.
If you want to be near Tokyo without breaking the bank, you can live in Kawasaki, Kamakura, and Yokohama. An average monthly budget of 1,400 USD would suffice in these places.
Note that all figures mentioned in this article are rough estimates only. Your monthly budget depends greatly on the kinds of products you avail, the lifestyle you lead, and how well you manage your finances.
---
You'll Also Like
Best Cheap Summer Road Trips for College Students
Cheapest Places to Travel for Students
Best Places to Travel in December on a Budget
What's the Cheapest Time to Fly to Morocco
---
FAQs
What is the Cheapest Place to live in Japan
Some of the cheapest places to live in Japan are the following:
– Fukuoka
– Tsushima Island
– Kamakura
In these places, your 1,000 USD is pretty much enough to cover a month's basic living expenses. It could even be cheaper if you're a student living in university housing or a dormitory.
Read more about the Cheapest Places to live in Japan.
Where is the Cheapest Rent in Japan?
Rent in Sapporo, Fukuoka, and Kamakura is much cheaper than rent in major cities, especially Tokyo. You can get a decent one-bedroom apartment for as low as 500 USD a month in these places.
If you're looking for a more sophisticated apartment, you can shell out a couple more hundred bucks a month.
Read more about the Cheapest Places to live in Japan.
Is it Cheaper to live in the Japanese countryside?
Living in the Japanese countryside is much cheaper than living in highly urbanized cities, such as Tokyo. A small but decent apartment in the countryside only costs about 150 USD a month. To cover all basic expenses, you'd only need about 900 USD monthly.
Read more about the Cheapest Places to live in Japan.